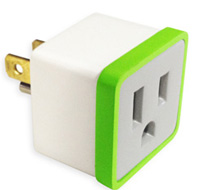 DAVIE, Fla. (PRWEB) December 14, 2012
Live Easy Technologies (LiveEasyTech.com) today announced the launch of its second IndieGogo.com project; MeterPlug. MeterPlug connects between an electrical outlet and any appliance or device and measures electricity usage of each appliance.
The MeterPlug utilizes Bluetooth technology to send usage and cost data straight to a free-to-download smartphone App. Straight from their smartphone, consumers can keep track of electricity usage from wattage and voltage, down to the actual dollar amount spent, Automatically calculated by the MeterPlug app. based on a user's local electricity bill rate.
"We're empowering consumers with a greater control on how much they consume and spend on electricity by providing a tool that allows them monitor and manage their consumption directly from the palm of their hands," said Jimmy Buchheim, founder, Live Easy Technologies. "While testing the MeterPlug, we found that our 50″ LED TV consumes $ 18.25 per year just in standby mode alone. MeterPlug will give consumers access to this type of information directly, allowing them to conserve energy and the dollars in their pockets."
Features and Benefits of MeterPlug: